Love is in the Air in the Naples Area - 3 Day & Night Spots to Make Your Valentine's Day More Romantic
Feb 01, 2018 02:32PM ● By Kevin
Sponsored Content
A delectable beverage at Naples' The Turtle Club. Photo courtesy of Hilda H. on Yelp.
Chocolates? Roses? Been there, done that. Everyone wants to make sure the special someone in their lives knows how much they care. Quality time is a great way to do so. Why not right here in Southwest Florida?
10best.com
listed the Naples, Bonita Springs and Marco Island area as one of the more romantic spots to spend time in Florida.
"Much of what is romantic about the Naples area dwells in or interacts with the natural world," the story said. "From kayaking and sailing into the sunset to hiking along a swamp boardwalk and strolling among tropical gardens, romance blossoms in the great outdoors of Southwest Florida."
Below are three day spots and three night spots to hit for your Valentine's Day date with that special someone in the Naples area, plus bonus recipes to enjoy at home after your date!
The Day Spots
Tigertail Beach
"Explore Marco Island's Most Pristine Beaches at Tigertail Beach Park. Spot rare shorebirds, manatees & dolphins on our Paddleboard and Kayak Rentals, and relax in our Beach Cabanas."
Website:
http://www.tigertailbeach.net/
Yelp Rating:
4/5 stars, 64 reviews
Naples Princess
"Come cruise with us aboard the most elegant luxury yacht in all of southwest Florida. You will experience the spectacular homes, breathtaking sites and natural beauty of Naples Bay and Port Royal. Relax in our fully enclosed and air-conditioned interior salons or bask in the warmth of the sun in the fresh-air outdoor seating. Enjoy the beverage of your choice from either of our two full-service bars and unwind as we cruise the calm waters of Naples Bay. If you join us for dinner, hors d'oeuvres or lunch cruise, you'll enjoy a delicious meal prepared fresh daily, right in our galley. The Naples Princess sails from her dock at the Port of Naples Marina, Naples, FL - conveniently located near downtown Naples, directly adjacent to the shopping of Tin City, Naples, Florida.  Join us for one of our popular daily public cruises where you're sure to have the experience of a lifetime. We also invite you to arrange a private charter to make that special occasion unforgettable."
Website:
http://www.naplesprincesscruises.com/
Yelp Rating:
3.5/5 stars, 46 reviews
Spa at Naples Grande
"The Spa is the heart and soul of the Naples Grande experience. A one-of-a-kind sanctuary at our Florida luxury resort dedicated to refreshing the mind and revitalizing the body in a uplifting, inspiringly beautiful setting.
"Our exceptional resort's spa in Naples, FL is your place to refresh and renew. Featuring 12 spacious treatment rooms, a Serene Meditation Lounge, hair and nail spa, and other peaceful and serene amenities."
Website:
http://www.naplesgrande.com/resort/spa-wellness?nck=8556479884&chebs=spa_yelp
Yelp Rating:
No reviews yet
The Night Spots
Fifth Avenue South
"5th Avenue South is an irresistible mix of glamour and laid-back ease. Historic and modern architecture blend together here in eclectic sophistication, while tropical blooms and lush greenery grace the pedestrian-friendly promenades, and each storefront is filled with wonderful finds and delights.
"One of the nation's most exclusive addresses, 5th Avenue South stretches from Tamiami Trail to the Gulf of Mexico in Old Naples, and is home to upscale fashion and jewelry, spas, one-of-a-kind gifts, artwork, home décor, fine dining, and entertainment – everything that our discerning residents and visitors have come to expect of Naples"


Yelp rating: 4.5/5, 4 reviews

Naples Municipal Beach and Pier
"The historic Naples Pier is located on the Gulf of Mexico at the West end of 12th Avenue South. The Naples Pier is a favorite location for sightseers. The Pier features restrooms, showers, a concession stand with covered eating area, and beach supplies."
Website:
https://www.naplesgov.com/parksrec/page/naples-pier
Yelp Rating: 4.5/5 stars, 97 reviews
The Turtle Club

"The Turtle Club was founded in 1998 by Mike Moore and Peter Tierney on the grounds of the Vanderbilt Beach Resort, which was the very first hotel established on Vanderbilt Beach in 1951, and which has been operated by the Moore family since 1968.  Since that time, the Turtle Club has come to represent perhaps the finest fusion of Olde Florida and New Florida in Naples - combining a relaxed causal beach Olde Florida environment with sophisticated modern cuisine and outstanding gracious hospitality."
Website:
http://turtleclubnaples.com
Yelp Rating:
4/5 stars, 304 reviews
Bonus Recipes
For more romantic wines and recipes, visit
www.barefootwines.com
.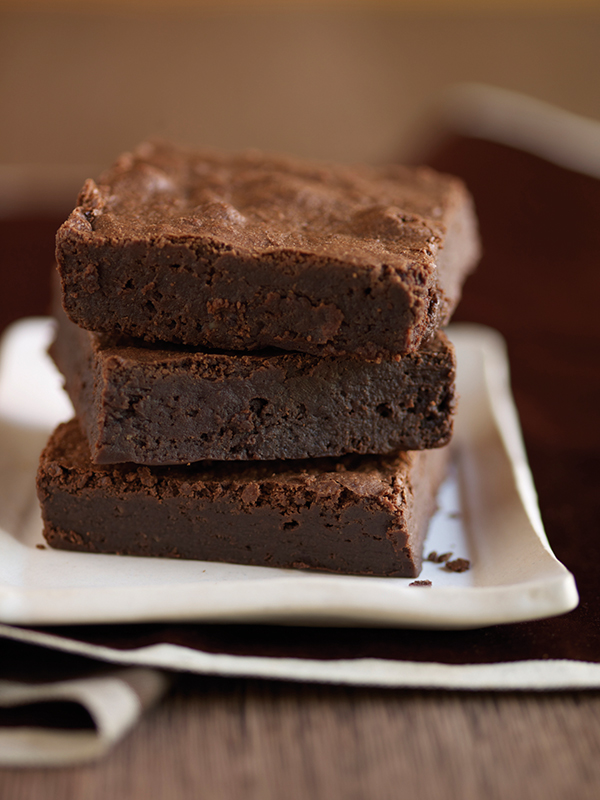 Sweetheart Dark Chocolate Brownies
Prep: 20 minutes
Cook: 25 minutes
Makes: 10+ servings
For the brownies:
1/2       cup butter, cut into pieces
4          ounces dark chocolate, chopped
2          eggs, at room temperature
3/4       cup white sugar
1          teaspoon vanilla
1/2       cup all-purpose flour
1/4       cup unsweetened cocoa powder
1/2       teaspoon kosher salt
For the glaze:
2          ounces semisweet chocolate
1          tablespoon unsalted butter
Preheat the oven to 350°F.
In small pot over low heat, melt 1/2 cup of butter and 4 ounces of dark chocolate together until smooth.
Add eggs one at a time, and whisk to combine after each addition.
Add sugar and vanilla and stir to combine.
Add flour, cocoa powder and salt and stir until smooth.
Transfer batter into a 9 x 9 aluminum foil lined baking pan and place it into the oven for 25 minutes and bake until done.
While brownies are baking, melt together semisweet chocolate and 1 tablespoon of unsalted butter for the glaze. Once melted, set aside.
When brownies are done, let them cool.
Once cooled, drizzle glaze over brownies, and spread it on top using an offset spatula.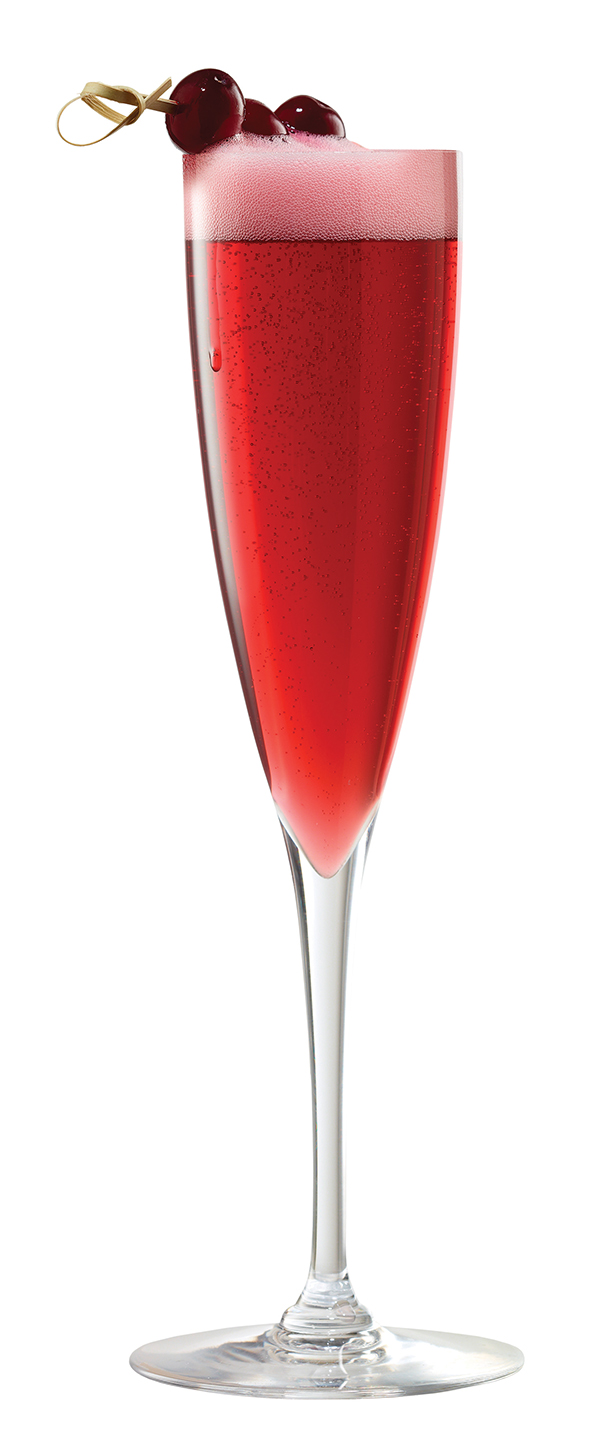 Barefoot Bubbly Ruby Red Bliss
Makes: 2 servings
3          ounces cranberry juice
1/2       ounce lime juice
6          ounces Barefoot Red Moscato Champagne
2          skewer cranberries for garnish
Place chilled juices in flutes. Top with Barefoot Bubbly Red Moscato. Garnish with cranberries.
Cheers!
Photo courtesy of Getty Images (brownie image)
Recipes Sponsored by Barefoot Wines